Post by Brother Ben on Jan 20, 2009 8:48:21 GMT -5
I have been working on some end times charts that would (roughly) relay a Pre-Wrath view of the Rapture. The timing is not to be interpreted too specifically except where the Bible gives specifics, i.e., Zec 11:8 Three shepherds also I cut off
in one month
; and my soul lothed them, and their soul also abhorred me. refering to the brevity of the actual pouring out of God's wrath on the planet earth.
Chart 1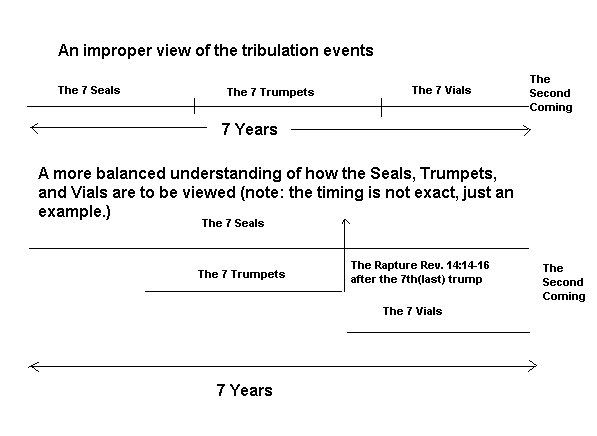 NOTE: It is VERY possible that the tribulation will only last 3-1/2 years because that is the only time frame listed in the Revelation. Notice:
Rev 11:2 But the court which is without the temple leave out, and measure it not; for it is given unto the Gentiles: and the holy city shall they tread under foot
forty [and] two months
.
3-1/2 years
Rev 11:3 And I will give [power] unto my two witnesses, and they shall prophesy
a thousand two hundred [and] threescore days
, clothed in sackcloth.
3-1/2 years
Rev 11:9 And they of the people and kindreds and tongues and nations shall see their dead bodies
three days and an half
, and shall not suffer their dead bodies to be put in graves.
3-1/2 years (symbolic perhaps???)
Rev 11:11 And after
three days and an half
the Spirit of life from God entered into them, and they stood upon their feet; and great fear fell upon them which saw them.
Rev 11:12 And they heard a great voice from heaven saying unto them,
Come up hither
. And they ascended up to heaven in a cloud; and
their enemies beheld them
.
A symbolic picture of prewrath rapture??? Perhaps, look what's next
Rev 11:13 And the same hour was there a great earthquake, and the tenth part of the city fell, and in the earthquake were slain of men seven thousand: and the remnant were affrighted, and gave glory to the God of heaven.
Chart 12
Be careful to read it, look up the references and let's have some discussion.